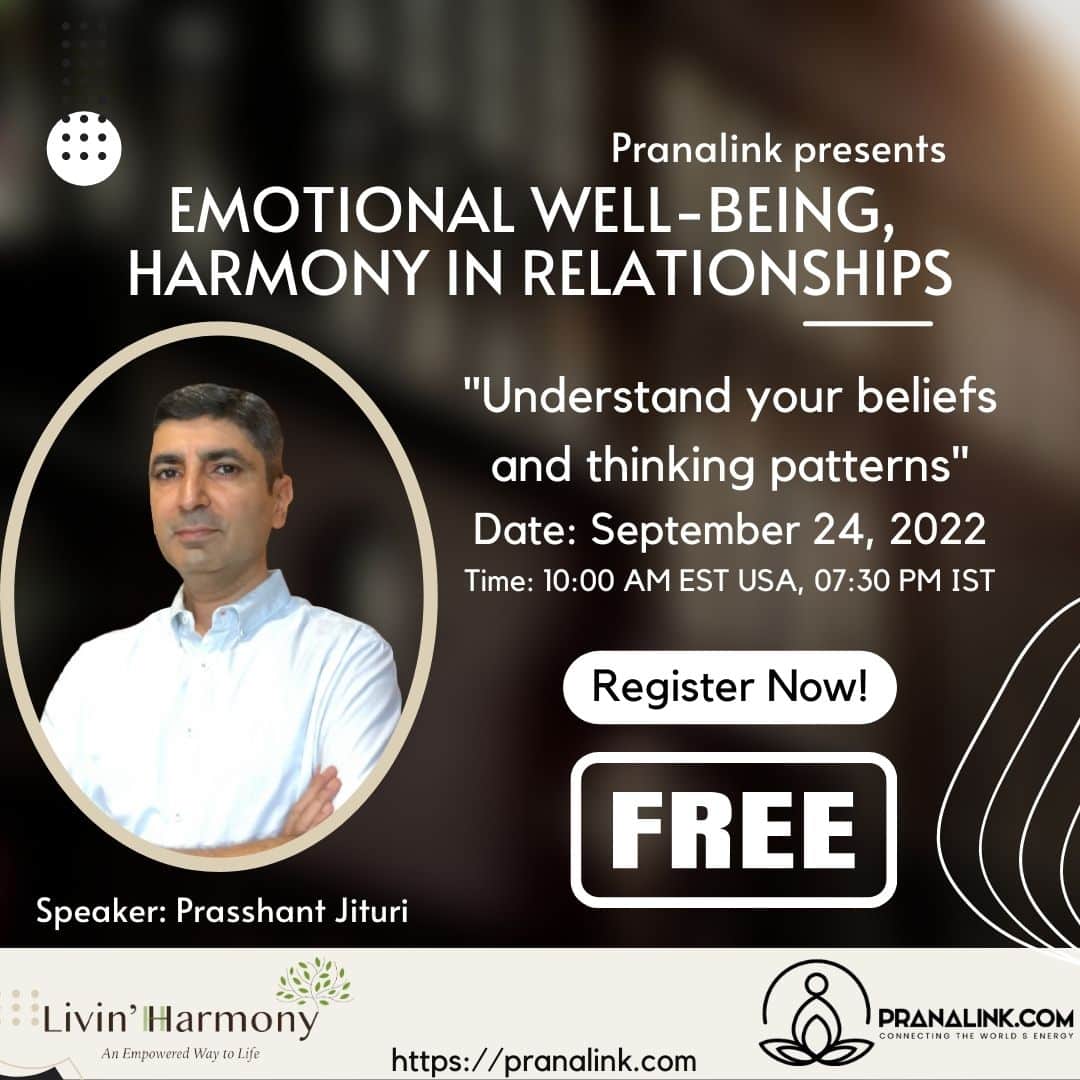 Emotional Well-being, Harmony in Relationships
Topic: Emotional Well-Being, Harmony in Relationships – Free Online Session by Prasshant Jituri
Date: September 24, 2022, 10:00 AM EST USA, 07:30 PM IST (India)
Duration: 45 Minutes, followed by 10 Minutes of Q&A
In this workshop, we will discuss on:
Understand your beliefs and thinking patterns and how you can change them to re-design your life
Speaker: Prasshant Jituri, ICF Certified Coach | Numerologist | Mindfulness Trainer, Prasshant Jituri is from Pune, Maharashtra, India.
About Prasshant Jituri:
Conceptualized and launched – "Livin' Hharmony" as a business owner in 2017 primarily for organizing workshops and trainings, facilitating events on various Metaphysical Modalities, Life Coaching, and Numerology consultations.
Over 25 years of experience as a Business Owner and Managing Partner in the manufacturing industry from 1994 to 2019 which comprised manufacture and sale of ice creams and other dairy products in the business enterprise.
Skillful in all functions of managing a manufacturing business, including production, financial planning, administration, sales and marketing, quality control, employee wellbeing, and human asset management.
One-on-one Coaching experience of more than 250+ hours of Coaching, empowering clients and extending unconditional support to find peace and harmony within, creating a positive impact on their lives.
Led and facilitated 50+ workshops that has transformed the lives of over 300 participants helping them attain greater fulfillment and growth
Professional Certifications and Training:
Certified as an NLP Practitioner from India NLP approved by ECNLP, London.
Completed the "Train the Trainer Certification" from Dale Carnegie Training.
Certified as an internationally licensed as Heal Your Life Trainer for mindfulness and well-being workshops.
Completed Life Coach Certification, and was certified for HAY HOUSE, USA by Heart Inspired Presentations LLP, USA, and pursued learning in other aspects of Metaphysics and the science of well-being.
Completed advanced Numerology Certification in Pythagorean, Chaldean, and Loshu which helped understand the personalities and traits of clients to assist them to change at a deeper level with coaching and leading.
Certified as a Holistic Coach by Alan Cohen – an Author of many best-selling books and Founder of Holistic Coach, Foundation, USA.
Graduation as an ICF COACH certified by International Coach Federation (ICF) USA with Erickson Coaching Institute, Canada.
Note: Upon completion of registration, the zoom link will be shared to the registered email address. This is a group session.
CLICK HERE to register for FREE now.