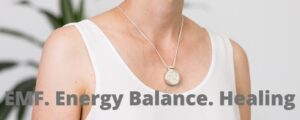 Because of our unique technology that makes it highly effective not only will the Nu-Me Pendant provide complete EMF protection it creates a harmonizing energy field that will protect you from all unbalanced energy. This includes the negative energy of places and the disruptive energy of people and entities.
Nothing can compare with the powerful effectiveness of the Nu-Me Protective Pendant.
The Nu-Me Pendant keeps you healthy.
The energy balancing that the Nu-Me pendants technology provides will keep your chakras, or energy centres, in balance. It also ensures that your energy levels are at optimum, your immune system is strong and supported. The Nu-Me is constantly working to keep you in a state of homeostasis.
Embedded with Scalar waves in the Solfeggio frequencies.
The Nu-Me pendant must not be confused with the much-advertised Scalar Pendants, these Scalar Pendants are natural crystal Pendants, usually Shungite which have no technology –so are passive. This means that these Crystal Scalar Pendant are, like all crystals, reliant on the properties of the crystal only.
Crystals have been used and honored for thousands of years for their benefits but when we are talking about complete protection in our modern world, we need a little more oomph.
The Nu-Me Pendant has that oomph, or power, with our advanced technology. This technology together with the embedded scalar waves in the solfeggio healing frequencies  make it active.
Active means that the Nu-Me Pendant has a big enough harmonising field to keep your finely tuned bio-energy field protected from all negative energy including EMF, while the Solfeggio healing frequencies act as a continual healing and wellness resource.
"EMF Protection necklace helps recovery Have just bought my first tool, the Evolution stainless. Am very impressed with your products. My body tingled the first time I held one of your tools. Am recovering from a major sickness, the necklace helps a lot." Thanks Lynn Joyce
And very importantly in our present challenging, fast-paced world The Nu-Me Pendant will help you to get a good night's sleep, keep you calm in any situation and helps eliminate stress.
"I purchased a Nu-Me pendant a few weeks ago and was relieved to feel the instant stress relief! A friend had recommended it to me, but she was right that you have to try it to understand just how amazing it feels! I am so much more relaxed and sleep like a baby" Jenny, Auckland NZ
What you need to know about The Nu-Me Pendant.
EMF radiation has increased dramatically in resent years and with the introduction of 5G the need for EMF protection is greater than ever before. People are just not coping and Electrosensitivity is now common. Our Nu-Me Skinny range of protective jewellery was introduced to overcome this.
Our unique technology is powerful enough to create a big enough harmonising field to protect and keep you safe.

The Nu-Me Pendant has a protective field of 6.5 meters. That's an awful lot of protection!

Not merely functional our Nu-Me Pendants are beautiful hand-crafted pieces of jewellery made in New Zealand that you will be proud to wear.

They are available in several designs of either silver or stainless steel that are fully reversible –two designs for one price. On one side the latest, timeless unisex design and on the other the original spiral design associated with all Life Energy Solutions products.

Wear your Nu-Me whichever way round to suit your mood or attire – we don't do boring 'same old'!

You get complete energy protection and energy balancing for a one-off affordable price too.
Our Nu-Me Skinny Pendants are winners because:
There are several different designs suitable for both men and women.

They are available in Stainless, and a 926 Silver over stainless steel which is a great energy conductor and part of the technology making these little protective pendants mighty powerful.

They are embedded with Scalar Waves in the solfeggio frequencies which takes them beyond mere protection to also keeping you healthy.

Despite the state-of-the-art technology they are small and light (approx. 4grams) – and so easy to wear.
This means win, win, win in terms of Energy Balancing, EMF Protection and immune Support for optimum wellness, while being a stunning, unashamedly gorgeous piece of jewellery.
"I received my pendent today. It's more beautiful than I had anticipated. I will enjoy wearing it for a long time to come. My sincere appreciation to you and your colleagues." Robert, USA