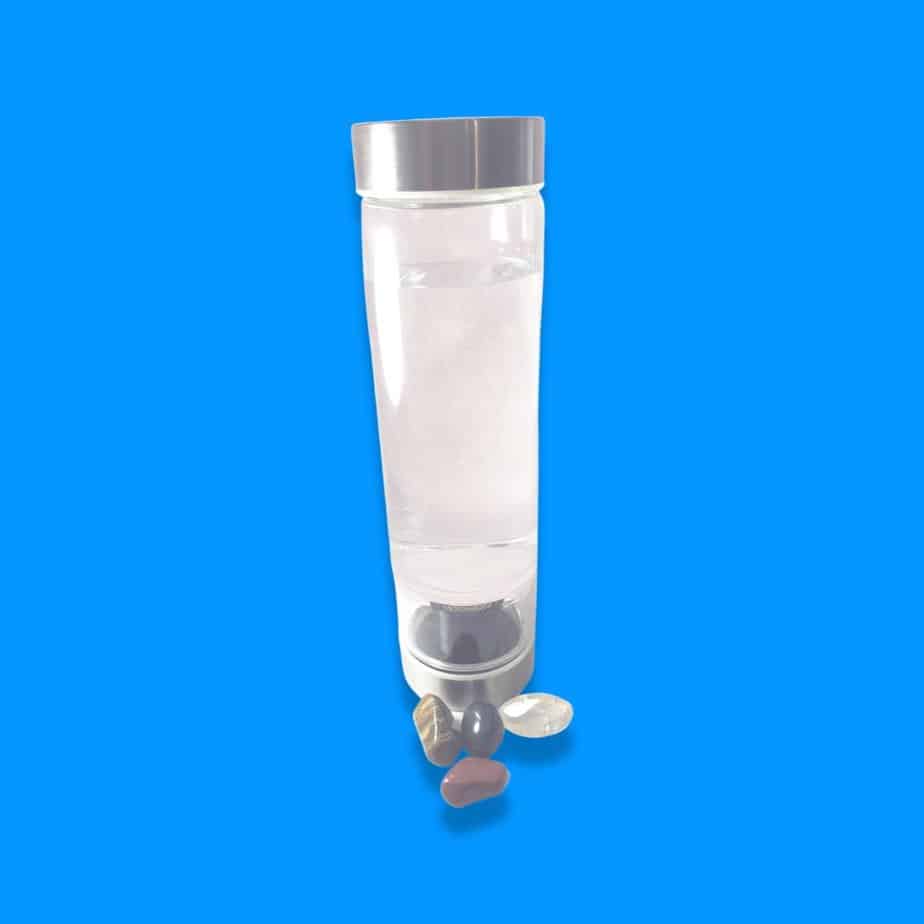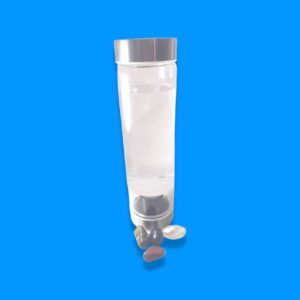 Introducing the extraordinary Crystal Water Bottle PLUS, a true game-changer in the world of crystal-infused water. This is not your ordinary water bottle – it combines the power of Amethyst crystal with our revolutionary technology embedded with Scalar Waves in the transformative Solfeggio frequencies. Get ready to experience the most potent water crystal infuser and energizer available on the market.
While traditional crystal water bottles are great, we knew there was room for improvement, so we took it to the next level. The Crystal Water Bottle PLUS retains all the features of a regular water bottle, but that's where the similarities end. Prepare to be amazed by the remarkable benefits it offers.
Here's why the Crystal Water Bottle PLUS is truly exceptional:
Unmatched Water Energization: This remarkable technology goes beyond ordinary water energizers, offering an energizing effect that surpasses expectations by 100% and beyond.
Holistic Healing Potential: By homeopathically infusing Solfeggio frequencies into the water, this bottle promotes healing on physical, mental, emotional, and spiritual levels. It harmonizes your entire being.
Enhanced Water Cleansing: The Crystal Water Bottle PLUS energetically cleanses the water, ensuring it is pure, refreshing, and free from impurities. Enjoy the taste of water as if it were sourced from an untouched artesian well.
Unparalleled Crystal Infusion: Through its advanced technology, this bottle enables a 500% more thorough and efficient infusion of crystal properties throughout the water. Experience the full potential of your chosen crystal like never before.
Superior Assimilation: The water from the Crystal Water Bottle PLUS is easier for your body to assimilate, providing tremendous health benefits and optimal hydration that surpasses regular crystal water bottles.
EMF Protection: Say goodbye to any worries about electromagnetic fields and unbalanced energy. This bottle clears such disturbances from the water, ensuring you drink pure and energetically harmonious water.
Crystal Maintenance: The Crystal Water Bottle PLUS keeps any crystals used in the bottle energetically clean at all times. No need to remove them for cleansing or worry about their energetic integrity.
Swift Charge Time: With an optimal charge time of just 30 minutes, you'll be able to enjoy the benefits of energized water swiftly and conveniently.
But that's not all – the Crystal Water Bottle PLUS comes complete with an Amethyst crystal embedded with Scalar Waves in the profound Solfeggio healing Frequencies. This means the water infused with the Amethyst will also carry the transformative properties of the Solfeggio Frequencies, maximizing its healing potential.
Discover the power of healing at its most potent with the Crystal Water Bottle PLUS. Crafted from toughened glass (borosilicate glass) and featuring two compartments with stainless steel lids, it ensures the utmost durability and functionality. The top compartment securely holds your water, preferably filtered, while the bottom compartment houses our unique technology and your chosen crystal.
For added convenience and portability, the Crystal Water Bottle PLUS includes a neoprene sleeve to protect and carry it wherever you go. With dimensions of 25.5 cm in height and 7 cm in diameter, it is compact and lightweight, weighing just 360g. With a capacity of 450 ml (16oz), it provides ample hydration for your daily needs.
Experience the future of crystal-infused water with the Crystal Water Bottle PLUS. Unlock the extraordinary healing potential within every sip.